Texas Crew Recruitment/FAQ
Fill out the recruiting page! No experience necessary!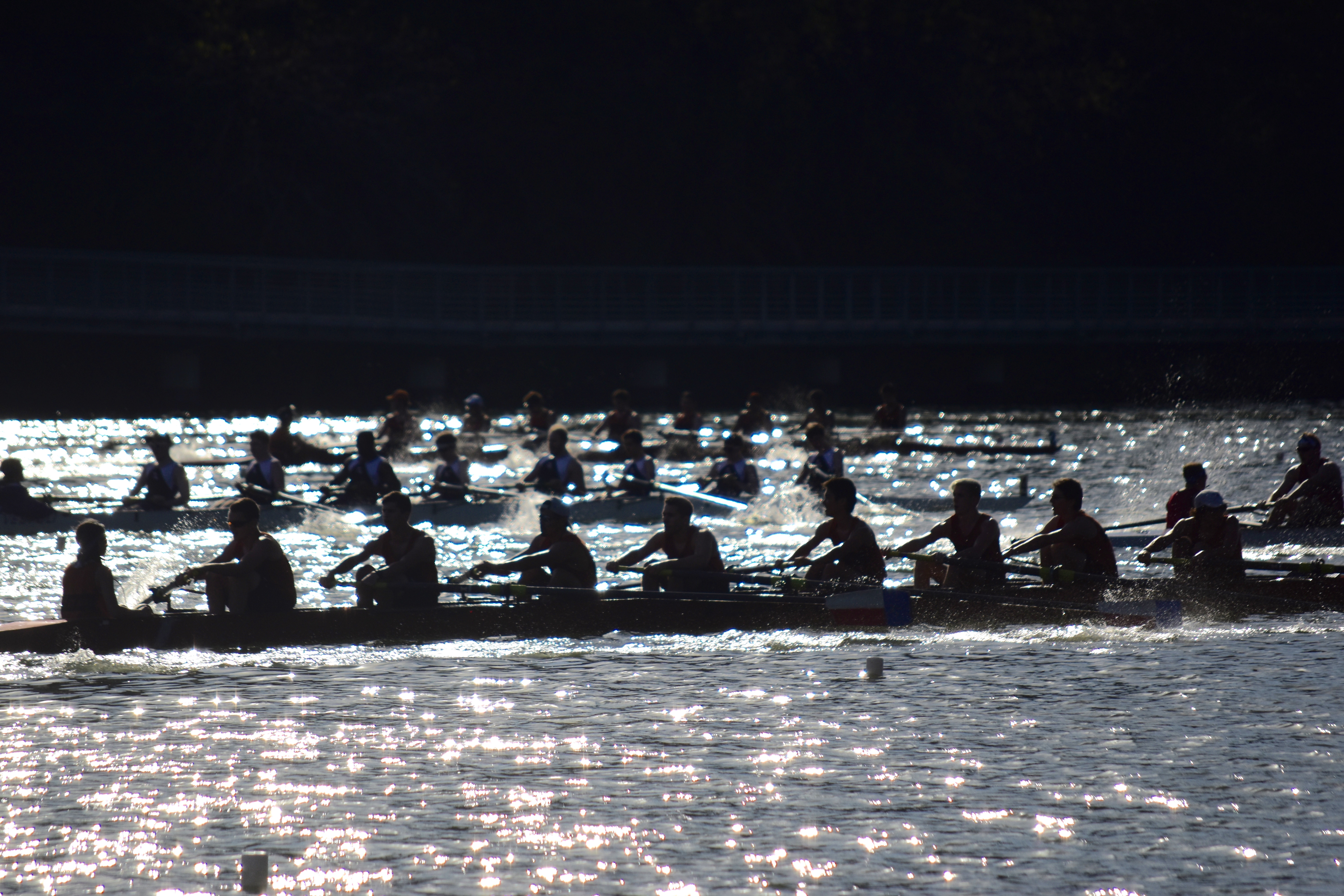 Novices in their first year of rowing compete in the Heart of Texas Regatta.
Frequently Asked Questions
Who are we?
Texas Crew is the first collegiate rowing team in Texas. Founded in 1969, it merges the athletic spirit of the University of Texas with the prestige and rigor of the Ivy tradition of rowing. We represent Texas in races across the nation, but our training culminates in a national championship in May. Texas Crew competes successfully against both varsity and club programs and ends the season consistently as one of the fastest programs in the region.
We send rowers to compete at the Head of the Charles regatta in Boston, the Southern Intercollegiate Rowing Association Championships, and the American Collegiate Rowing Association National Championship, held on the former 1996 Olympic rowing course in Gainesville, Georgia. The rowing team is comprised of two squads each for men and women: Novice and Varsity.
Novices are first-year rowers, while varsity rowers have rowed at least one year in college. Novices only race against other novices. Rowing experience is not necessary to join. Novices will have coaches dedicated to their squad to teach their athletes the rowing stroke from the ground up. They will undergo a training program designed to strengthen them physically and mentally as they prepare for their first national championship.
What should I do before I join the team?
It is not necessary to do any special training or rowing before trying out for the team. All the novice athletes will be starting out together so just arrive in good health and ready to learn.
Things you can do to try out for and join Texas Crew:
1. Please read the information below regarding eligibility, admissions assistance, and athletic scholarships - the latter two are not available for prospective Texas Crew members.
2. Plan to attend one of our informational meetings held during the first two weeks of school. Look for advertisements around campus and on our social media. If you have any questions, contact the team's Vice-President at rowfortexas@gmail.com or Head Coach Peter Rosberg at peter.w.rosberg@gmail.com.
Eligibility and Athletic Requirements
Texas Crew is open to all academically-eligible, full time undergraduate students at the University of Texas. First-year graduate students may be able to compete under the American Collegiate Rowing Association rules. If you are not enrolled at UT, you are not eligible to compete. The best time to join the team is early in the fall semester of your freshman year, however academically eligible sophomores and upperclassmen may also join in the fall.
Prior Rowing Experience Not Required
Prior experience is not necessary to try out. While an athletic background is helpful, almost all of the current team members did not row before college. We've recruited from several backgrounds including swimming, baseball, track, cross country, volleyball, soccer, tennis, hockey - even the Navy and Marine Corps. A few of our rowers were not involved in athletics before college. While these students joined "out-of-shape", they brought the attitude necessary to train alongside competitive athletes.
While it is advantageous to be tall in rowing, competitive athletes come in all shapes and sizes. We certainly recruit for taller athletes, but a desire to compete is required to row for Texas Crew. Smaller athletes are encouraged to try out.
We hold Information Sessions for new students and prospective recruits at the beginning of each semester on campus and a Boathouse Orientation the following Saturday. Anyone interested in trying out should attend one information session and the orientation.
- Wednesday September 6- 6:30pm-7:30pm, UTC 4.110
- Thursday September 7- 6:30pm-7:30pm, UTC 4.110
- Tuesday, September 8, First Day of Tryouts @ Texas Rowing Center


The Novice Men participate in an old tradition: "The Coxswain Toss"
Funding, Scholarships, and Admissions Information
Texas Crew receives financial support from the Division of Recreational Sports and the Texas Crew Foundation, our alumni organization. However, we do not offer athletic scholarships for either the men's or women's team. Financial aid information is available at http://finaid.utexas.edu/. Intent to row for Texas Crew does not merit special consideration from the Admissions Office.
Please note that our rowing coaches are not able to
1. Send your application for admission to UT Austin. Applications are online at this link.
2. Assess your likelihood for admission to UT.
3. Offer or guarantee your admission to UT.
4. Assess your likelihood for financial aid.